Total Views: 4675
How can I transfer files and folders between my METU user account and my computer by using WS FTP?
Readspeaker
WS FTP program, is a simple FTP software working under a Windows operating system with 16 or 32 bite versions available. Click on the Connect button to access the FTP server.
On the 'Session Properties' window enter the address, that you would like to connect to, of the FTP server at the Host Name/Address section, your user name registered at the FTP server at the User ID section, and the password of your account on the FTP server at the Password section.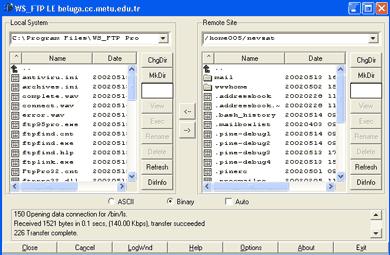 Clicking the OK button will connect you to the server, then by selecting the file to upload to the server or to download to your computer by using the function arrows at the middle you can perform the file transfer, either to your computer or to the FTP server.