Total Views: 15064
How can I add an e-mail address to the black list?
Go to https://horde.metu.edu.tr/login.php address and login with your username (e******) and password. If the language is not appropriate for you, choose the language from the "Dil" drop-down menu. Then, click on the "Giriş" button.
To use the feature first the "Mail" icon and then "Filters" icon are clicked.

From the menu on the left, click on the "BlackList" button.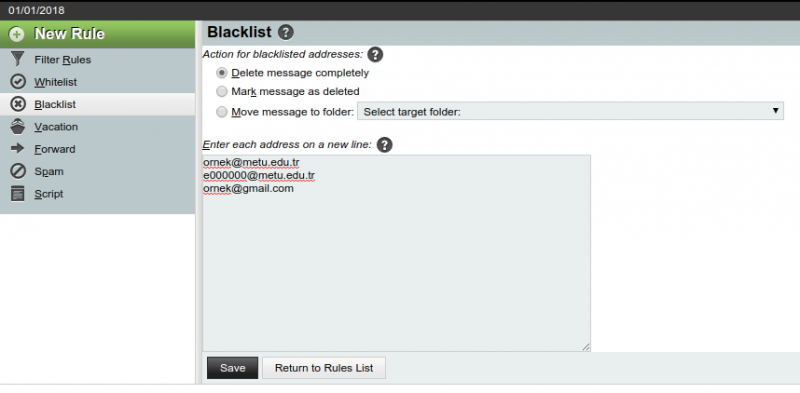 Choose the action for blacklisted addresses.
1) If you want to delete messages from the addresses you will add on the blacklist then you should choose "Delete message completely" option.
2) If you want those messages only be marked rather than deleted then you should choose "Mark message as deleted" option.
3) If you want to send messages from addresses that you will add on blacklist to some folders (Inbox, draft, sent mail, trash) then you should choose "Move messages to folder:" option and select the folder name from the drop-down menu next to the "Move messages to folder:" option.
Click inside the textbox at the bottom. Now, write down e-mail addresses that you want to put in black list. (Be careful: You should write all the e-mail addresses on separate lines.)
When you finish writing e-mail addresses, click on the "Save" button on the same page.
Changes are saved. E-mail addresses are on the blacklist and the action you selected will be applied to the emails sent from those email addresses.