Total Views: 21444
How can I download all of my e-mails with Horde?
With Horde, you can download the emails in a mailbox to your computer. For this, after logging in Horde web application in DYNAMIC mode, please right click on the mailbox you want to download and select Export / Dışa Aktar.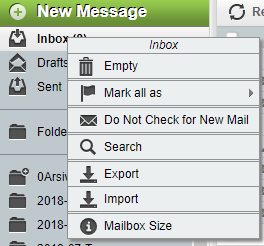 In the popup window, select "Download into a MBOX file" and click OK.

If you use Horde web application in BASIC mode, please use the Folders link, right below the NEW MESSAGE button, once you select the folder to be downloaded, click "Choose Action" menu and click Download.
You can also add your METU email address to email readers like Thunderbird or Outlook and online email services like gmail, hotmail, etc. Then, you can copy your email messages. For more information, please follow the links at http://faq.cc.metu.edu.tr/groups/e-mail-programs.