Total Views: 7812
How to give E-APPROVAL for Certified Electronic Signature (e-signature)?
In KamuSM Certified Electronic Signature transactions, if you give one-time e-approval by using your e-signature, you can obtain Certified Electronic Signature (CES) quickly without the need to send documents for your future requests. To do this, you need to follow the steps below:
In order to carry out the relevant operations in KamuSM, Java and Akis installations must be done.
1. Go to http://kamusm.gov.tr.
2. Click on the "ONLINE İŞLEMLER" tab.
3. After selecting "E-Devlet ile Giriş", click on the "E-devlet Kapısına Git" link. Sign in with your ID number, CES (NES) or mobile banking.
4. Select "NES İŞLEMLERİ".
5. Select "E-ONAY İŞLEMLERİ":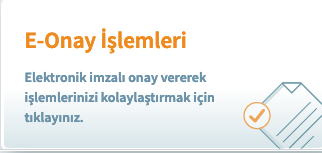 6. The steps to be followed are described in detail on the page that opens. Give your E-APPROVAL by following the steps.
PS: If you have e-approved before, the system will show you the option your e-approve; you can just exit without any transactions.