Total Views: 11694
ACCESS TO ADOBE SOFTWARE
— ADOBE CREATIVE CLOUD // ACROBAT PRO —
In order to access the limited number of Adobe Creative Cloud and Adobe Acrobat Pro software licenses, ODTU e-mail addresses and the Adobe account access password associated with these addresses can be used.
Our users, who obtain the e-mail address and Adobe account access password information authorized to access Adobe software, can use the software by following the steps below.
---
[1] Note: Adobe software is available to technical staff only! (Adobe licenses used by technical units and provided in limited quantities are not available to staff or students.)
[2] Note: The e-mail address and Adobe account password defined for accessing Adobe software made available should not be shared with third parties for both security and common use!
[3] Note: You can use the Adobe Acrobat extension for free by adding it to your browser to view, convert, compress or sign PDFs. Click here for detailed information.
---
STEP-1
Go to https://www.adobe.com/ and click the "Login" button on the top right of the page.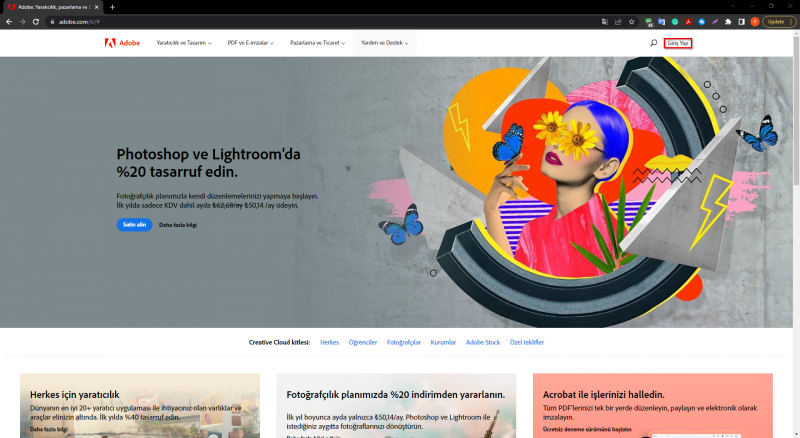 STEP-2
Continue by logging in with your e-mail address and Adobe account access password on the opened page.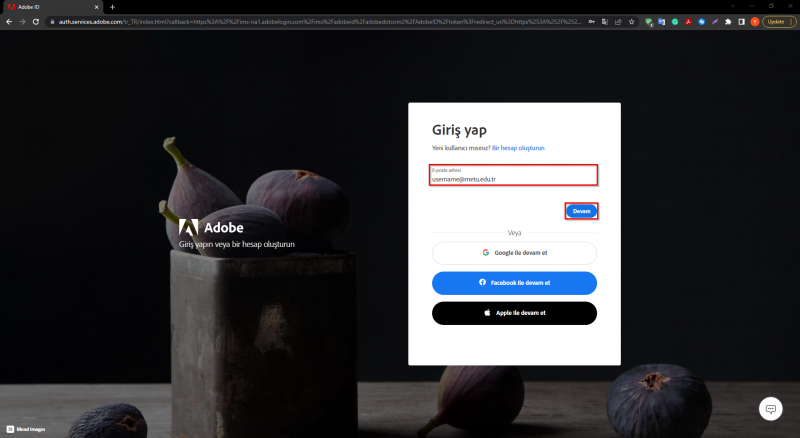 STEP-3
To log in, select the "ODTU Bilgi Islem" profile.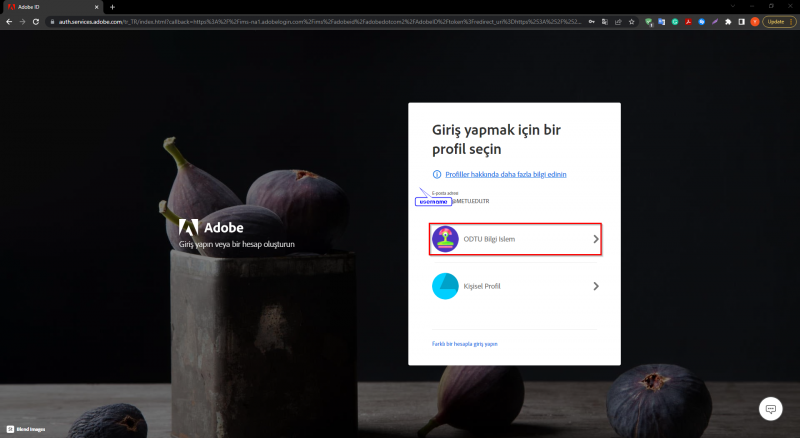 STEP-4
Click on the "Creative Cloud" icon among the products listed under the application menu at the top right of the page.
STEP-5
Proceed by clicking the "Download" button under the Creative Cloud area in the window that appears.
STEP-6
Find and run the installer in the downloads section of your browser or in the location where you saved your downloaded files on your computer.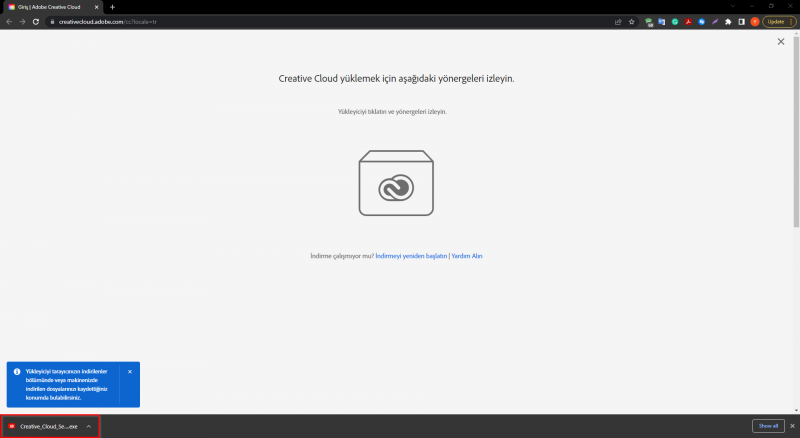 STEP-7
Click the "Continue" button to start the installation. When the installation starts, you will be directed to a web page for user login. Log in with your e-mail address and Adobe account access password on this page.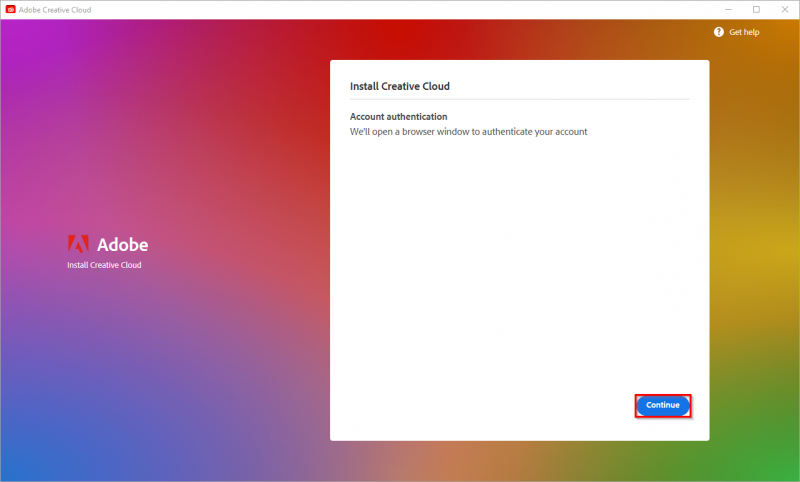 STEP-8
If the user login is successful, a warning message will appear on the screen as follows. After the user login is complete, the installation continues and completes.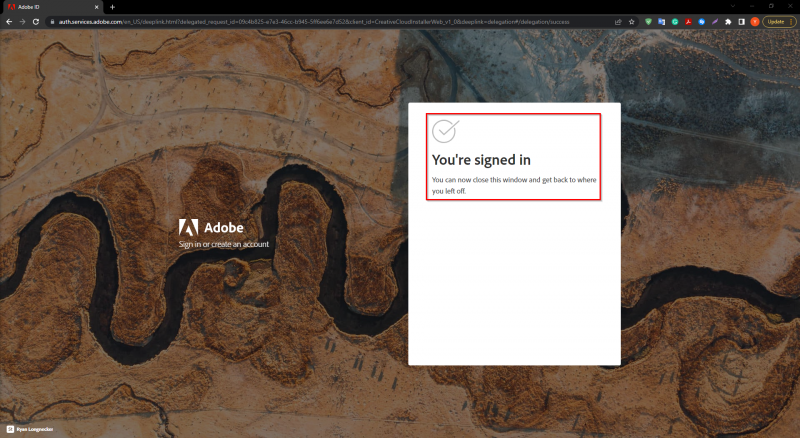 STEP-9
After the installation is completed, you can download and start using the software you want to use.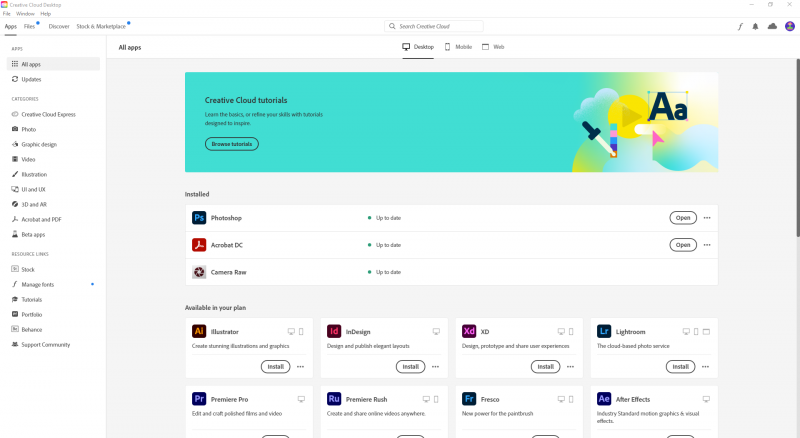 STEP-10
Since only one person can use the software at the same time, it is absolutely necessary to sign out after using the software. Otherwise, other users cannot access the software.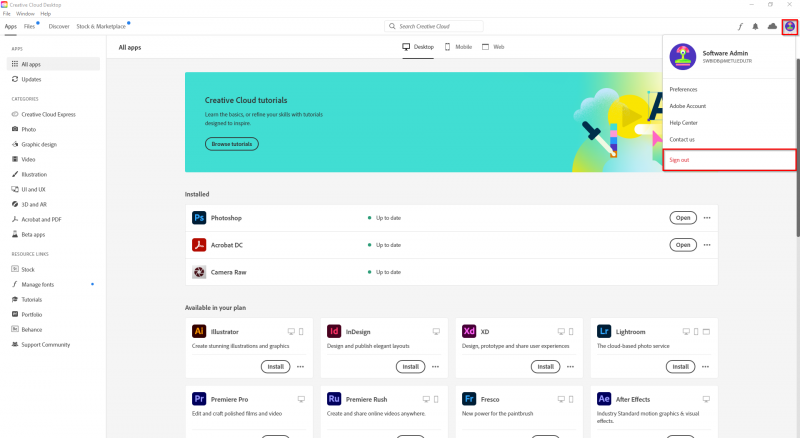 ---
Contact us: https://itsupport.metu.edu.tr/
---